It is rare opportunity to buy for pennies on something that normally costs a lot of money.
This opportunity has just arrived and as usual it has something to do with the "Humble Bundle" which this time has prepared something special along with the company THQ!

Since yesterday, you have the opportunity to buy for your choice sum games such as Metro 2033, Darksiders, Company of Heroes (plus "Opposing Fronts" and "Tales of Valor"), Red Faction Armageddon, and if you pay more than the average that you get "Saints Row The Third "! If you do you have enough, you will also receive a set of soundtracks of those games!
It's a pretty amazing bunch of games, we admit that paying a dollar we get a lot of very good games.
Rumors say that the company THQ lately has financial problems and is therefore trying to earn what they can on their titles. Pity it would be to a company like THQ has disappeared from the market and, therefore, this is another reason that as soon as possible take the opportunity to buy their games.
To take advantage of this unique opportunity to simply use the link: https://www.humblebundle.com/
babes-and-stuff.com recommended!
PS. Yet another reason to take advantage of this offer is that buying a game you powered charities.
All games are Steam compatible.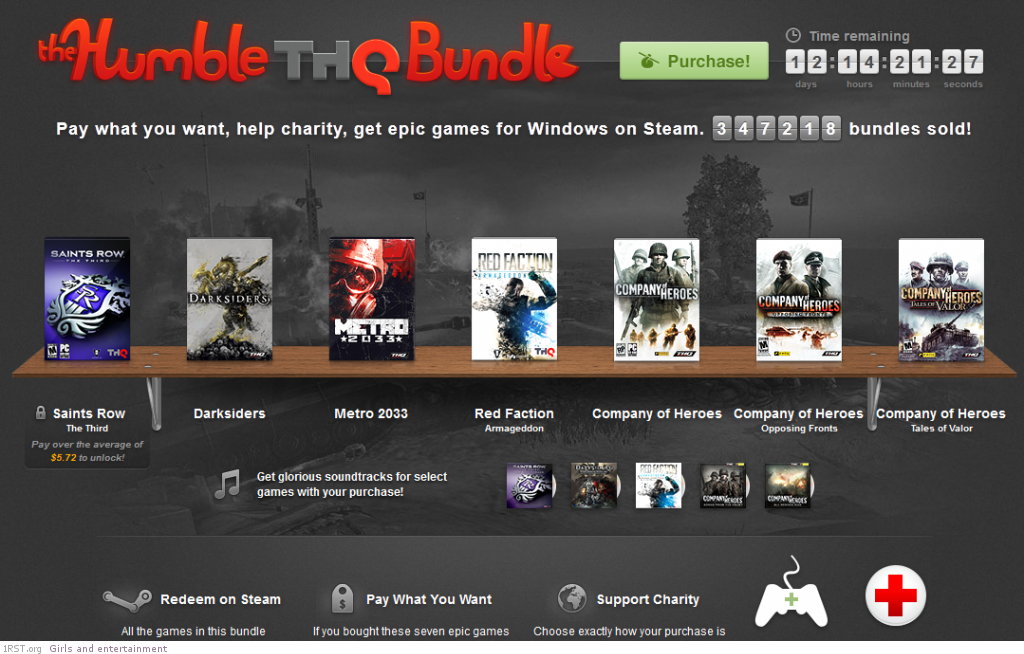 UPDATE:

Added 3 things to pack.
"Titan Quest" and "Red Faction: Armageddon's" mission pack, "Path to War!" and "Warhammer 40,000: Dawn of War – Game of the Year Edition"
If you have not bought it really does not have to wait, have only been two days, and this opportunity may not come again soon.

Tags: